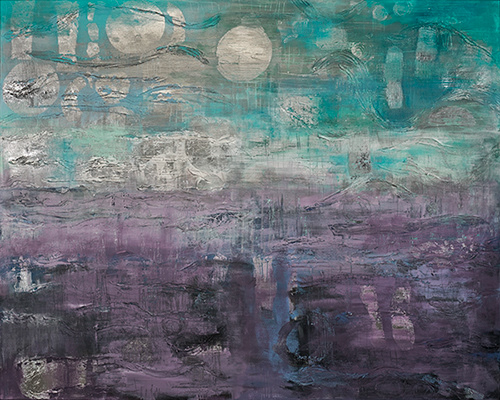 Tucson International Airport 
Center Gallery at Tucson Airport
April 13, 2019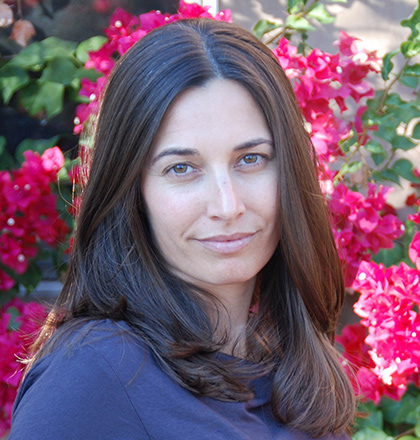 About
Encouraged by my parents and grandfather, a painter, I began oil painting lessons at the age of eight and have been making art ever since. I have 
exhibited my artwork in the U.S. and internationally
. Since 2008, I divide my time between Tucson, Arizona and Mumbai, India. 
As a native of Tucson, I grew up immersed in Southern Arizona's beautiful Sonoran Desert landscape. The influence of that desert's color and vastness, combined with my early travels around the world, helped me understand that I innately visualize my surroundings, natural or man-made, in terms of shapes, colors and compositions.
I shape multiple layers of textures, vivid colors, and iridescent materials into abstract paintings that are at once ethereal and earthy, expressing my visceral connection to the landscape of the Southwest and to the scapes in my mind. A work of art, for me, can feel immensely satisfying to simply "be" with; it creates its own contained world. Simultaneously, that artwork can invoke real and imagined worlds, forging spaces of possibility.
Though many of my prints originate from imagery in my paintings, they are

not

reproductions of my paintings, but original works of art created digitally. They are printed on aluminum, using a dye sublimation process.
My creative process is an antidote to my tendency to overthink almost everything, as the act of making forces me to be present, favoring what feels right in that instant, instead of insisting on preconceived images and ideas. A painting's magic usually only shines when I follow "mistakes" and "tangents," using them to navigate the unknown territory of a work in progress. When I play with materials and trust the process, beauty coalesces from the layers of media.
Education
1998, Bachelor of Arts, Human Biology, Stanford University
1998, Minor, Art History, Stanford University
2018, Professional Certification, Integrative Health Coach, Duke Integrative Medicine
Exhibitions / Gallery Affiliations
2019,
Group Exhibition
, Contemporary Art Society at Louis Carlos Bernal Gallery, Tucson, AZ, USA
2019,

Group
Exhibition
, Tucson International Airport, Tucson, AZ, USA
2019,
Governor's Arts Awards Artist
, Phoenix, AZ, USA
2018,

Studio
Exhibition
, Art Excursion, Tucson, AZ, USA
2018,

Studio
Exhibition
, SAACA Open Studio Tours, Tucson, AZ, USA
2018,

Artisan Showcase

, Laura Tanzer Atelier, Tucson, AZ, USA
2018,
Group Exhibition
, Contemporary Art Society at Tucson Museum of Art, Tucson, AZ, USA
2018, 

Solo
Exhibition
, 1Art on Broadway, Tucson, AZ, USA
2017-2018, 

Gallery

, CasaBella Fine Art, Tucson, AZ, USA
2017, 

Studio
Exhibition
, Art Excursion, Tucson, AZ, USA
2017, 

Group
Exhibition
, Roche Tissue Diagnostics, Ventana Gallery, Oro Valley, AZ, USA
2017, 

Studio
Exhibition
, SAACA Open Studio Tours, Tucson, AZ, USA
2017, 

Group
Exhibition
, Gloria Delson Contemporary Arts, Los Angeles, CA, USA
2017, 

Group
Exhibition
, Gloria Delson Contemporary Arts, Los Angeles, CA, USA
2015, 

Group
Exhibition
, Gloria Delson Contemporary Arts, Los Angeles, CA, USA
2015, 

Group
Exhibition
, Gloria Delson Contemporary Arts, Los Angeles, CA, USA
2015, 

Group
Exhibition
, Gloria Delson Contemporary Arts, Los Angeles, CA, USA
2014-2018, 

Gallery

, Gloria Delson Contemporary Arts, Los Angeles, CA, USA
2014, 

Group
Exhibition
, Gloria Delson Contemporary Arts, Los Angeles, CA, USA
2014-2016,

Gallery

, J Compton Gallery, Wimberly, TX, USA
2014, 

Group
Exhibition
, The Tower Antique Show, Dallas, TX, USA
2014, 

Group
Exhibition
, Midwest Antique & Art Show/Collector's Eye, Cedar Rapids, IA, USA
2014, 

Group
Exhibition
, Objects of Art Santa Fe Show, Santa Fe, NM, USA 
2012, 

Solo
Exhibition
, The Fine Art Company, Mumbai, MH, INDIA
2012, 

Group
Exhibition
, Artist of the Month Gallery, Tucson, AZ, USA
2011-2013, 

Gallery

, ArtConcoction Artist, MH, INDIA
2011, 

Group
Exhibition
, India Art Festival, ArtConcoction Gallery, Mumbai, MH, INDIA
2007-2011, 

Solo & Group Displays

, Commercial Office Spaces, Tucson, AZ, USA
2007, 

Corporate Collection

, First Magnus, Tucson, AZ, USA        
2005, 

Group
Exhibition
, Jewish Community Center Fine Art Gallery, Tucson, AZ, USA
2005, 

Group
Exhibition
, Councilman Ronstadt's Office, Tucson, AZ, USA
2004-2005, 

Group
Exhibitions
, Raices Taller 222 Gallery and Workshop, Tucson, AZ, USA
2004-2005, 

Gallery

, Raices Taller 222 Gallery and Workshop, Tucson, AZ, USA
2004-2009, 

Solo & Group 
Exhibitions
, Residential Spaces, Tucson, AZ, USA
2003, 

Retail Display

, La-di-da Boutique, Tucson, AZ, USA
1995, 

Group
Exhibition
, University of Arizona Student Union Gallery, Tucson, AZ, USA
1992-1993, 

Gallery

, Puzey Gallery, Tucson, AZ, USA
lisa (at) lisascadron (dot) com